It seems that the notorious market crash on March 12-13 has affected every crypto company. But how?
A few industry players shared their own experiences and plans.
"The market crash is definitely an important stress-test for both Ethereum and the decentralized financial products launched on it, and I'm confident that both will emerge as more antifragile," Nate Hindman, Head of Growth at decentralized liquidity network Bancor (BNT), told Cryptonews.com.
Hindman said that the downturn has tested how Bancor liquidity providers fare during periods of extreme volatility.
"We're glad Bancor pools were able to process the increased volume and also serve as a hedge against losses," he said. In the week between March 9 and March 16, staking one's ethereum (ETH) in Bancor and generating fees from ETH trades on the network delivered a 73.84% APR (annual percentage rate) vs. holding ETH on its own, according to Hindman. "This is because high trade volume on Bancor creates fees for users who are staking liquidity in Bancor and the profitability of those fees can outweigh losses in the pool's underlying assets," he explained.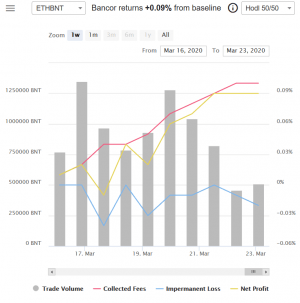 Meanwhile, crypto exchange KuCoin, in general, hasn't been heavily affected, said Johnny Lyu, CEO of KuCoin Global.
"The recent COVID-19 and dump in financial markets do have a negative impact on people's confidence in crypto and traders are getting less active as a result," Lyu told Cryptonews.com, "but we are bullish on the crypto market for the long term, and we believe that as the panic fades away, the price of major tokens will return to its value."
At pixel time (14:03 UTC), bitcoin (BTC) is down 32% in a month, while other coins from the top 10 lost 40%-50% of their value. However, the top 10 coins are up 20%-30% in a week.
In either case, KuCoin said it is now focusing on new products and services. The biggest issue KuCoin has now is the lack of time compared to the number of things they have in plans, Lyu said. Recently, the company has established KuGroup, consisting of three business groups, namely KuCoin Global, KuCloud, and the KuChain & KCS Business Group. For this year, they've got a number of new products planned, such as KuChain and KuDEX, while they will also introduce new features to KuCoin, KuMEX and Pool-X.
Others agree that the focus on products and services is essential. CEO of digital asset storage, transfer, and issuing platform Fireblocks, Michael Shaulov said that they've seen a 150% increase in volume, supporting their customers to move their crypto in the volatile market. This means, said the CEO, that they dedicate more time to their operations and making sure that the system is scaling up and working properly at all times.
However, he added that "sporadic outages" of their interconnected partners could've been noticed, specifically cryptocurrency exchanges, providing as examples Coinbase, Gemini, Huobi, and BitMex, which had experienced issues on March 12-13.
"Business remains strong and it seems that our customer base is actually doing pretty well in the current climate. We continue to see extensions in our customer base and project to continue to move forward," Shaulov said. "Moreover, our cash balance is solid and efficiency is high so we are ready for a long downturn."
Though it's difficult to predict how long the broader global volatility will last, Bancor's Head of Growth added that, as governments announce bailouts and the legacy infrastructure faces further strain, the value of a brand new programmable capital markets infrastructure becomes more apparent. Loi Luu, CEO of Kyber Network (KNC), added that, in critical times like this, access to liquidity is key for users and Defi projects.
DappRadar, a dapp data aggregator and analysis firm, argued that it's down to national governments how long this turbulence continues, but they see a better future for crypto than other assets.
"Probably there will be 6-12 months of uncertainty, with some reasonable chance (30%) that BTC and ETH will test respective recent lows c. USD 3,000 and USD 90. But I think when the rebound happens, crypto will rebound fastest compared to other assets – gold, stocks etc.," Communications Director Jon Jordan said.
___
Learn more:
10 Crypto Minds Weigh in On Post-Crash Bitcoin and Its Future
Fiat Money Printer 'Goes BRRR,' Is It a Time To Sell All Cash For Bitcoin?