The pandemic sweeping through major US cities is now wreaking havoc on rural American communities, with some recording the nation's most new confirmed cases per capita in the past two weeks.
The virus is infecting thousands of often impoverished rural residents every day, swamping struggling health care systems and piling responsibility on government workers who often perform multiple jobs to which they never signed up, the Associated Press reports.
Officials attribute much of the spread in rural America to outbreaks in workplaces, living facilities and social gatherings.
Food processing plants and farms, where people typically work in cramped quarters, have proven to be hotspots.
Umatilla County, with a population of 77,000, has Oregon's highest number of confirmed infections per capita, sometimes reporting a figure this month above that of Multnomah County, which is 10 times larger and includes Portland.
The coronavirus has torn through the small Oregon community where farmers grow crops such as potatoes, onions and grains.
In Umatilla County, the virus has infected more than a thousand people and killed nine, overwhelming its limited resources and employees.
The county's rate of people testing positive for Covid-19 is about 16%.
The World Health Organization recommends it stay below 5%.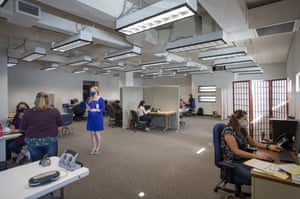 The surge in Umatilla and most of Oregon's rural counties is driving the state's rise in confirmed cases.
In response to the pandemic, Umatilla County divided virus-related tasks among the 30-person public health department.
Other rural counties also are seeing virus cases soar.
Forested Hot Spring County in Arkansas leads the nation in the number of confirmed new cases per capita in the past two weeks, according to data compiled by AP.
Also near the top of the list are even more remote places, such as Scurry and Crockett counties in Texas.