After returning into the top 10 club at the end of last week, chainlink (LINK) accelerated its rally today, outperforming top 50 coins, while news on a new partnership has seemingly overshadowed a recent shorting attack, and "LINK marines" were called for duty.
At pixel time, (11:55 UTC), LINK, ranked 8th by market capitalization, was up by 12.5% over the past 24 hours, trading at a price of USD 9.52. The token is also up by 34% in a week and 102% in a month.
In addition, the token also looks strong from a charting perspective, having just yesterday taken out the high of about USD 8.9 from before a controversial report by Zeus Capital was released, thus setting fresh all-time highs in the market.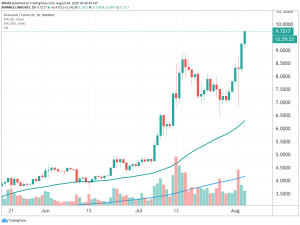 Yesterday, the startup announced that they partnered with Provide Technologies in order to integrate Chainlink into the Provide API, offering enterprises a low-code framework for building with Chainlink. Meanwhile, as Cryptonews.com reported today, this partnership also means that CONA (Coke One North America), a platform that provides tools to the twelve largest Coca-Cola Company bottling partners in North America, also gains access to Chainlink. (Learn more: 'Coca-Cola Bottling Harbor' To Use Baseline Protocol & Ethereum Mainnet)
Also, the gains today come as many committed LINK fans – commonly referred to as the 'LINK marines' – have called on other fans to push the price of LINK higher in an attempt to inflict maximum pain on the secretive group behind the critical Chainlink report.
As reported, in mid-July, Zeus Capital accused Chainlink of being a "fraud" and a "Russian pump-and-dump." The company claims that they're trying to short LINK and are working on a class-action lawsuit. LINK dipped in the second half of July but is now up by more than 15% since the report was released.
Reactions:
psyops 101 teaches that the best way to rally a community is to give them a (possibly imaginary) figure to rally against